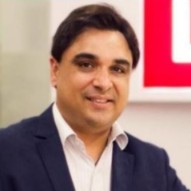 According to Sachin Bhatia, CMO of Lenovo Infrastructure Solutions Group in Asia Pacific, the last several months of pandemic-sparked disruption delivered an unexpected upside. Prompted by rapid changes to get creative and move away from traditional tactics, they've essentially earned an "MBA 2.0". In this energetic conversation, Sachin and Kathleen discuss how marketing can be the headlights of a business, the importance of a customer-focused agenda, and how Lenovo is uniquely positioned to manage global supply chain processes. When you hear Sachin talk about Lenovo's "Everything as a Service" approach and how they are bringing a software mindset to silicon, it will be clear why Lenovo won the VMware Partner Innovation Award for Global Alliances in 2021.
About the Guest: Sachin Bhatia is the Chief Marketing Officer for Lenovo Infrastructure Solutions Group, Asia Pacific. You can find him on LinkedIn at: https://www.linkedin.com/in/sachinbhatia2018/ or on Twitter at @sachinCMO
About the Host: Kathleen Tandy is Vice President of Global Partner and Alliances Marketing at VMware. You can find Kathleen on LinkedIn at: https://www.linkedin.com/in/ktandy85/, or on Twitter at @kaktandy.
 
To learn more about VMware's partner programs, please visit https://www.vmware.com/partners/partner-executive-edge.html.
Subscribe, follow, and review VMware Partnership Perspectives podcast.